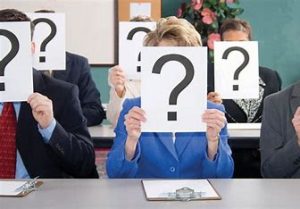 Before making a major investment like buying a car,  you figure out what type you want, what model, what year, and what color, and then you take a test drive. But when investing in psychotherapy, many people don't realize they need to take equivalent care.  They see a listing for a therapist who sounds good, or a friend recommends somebody, and so they make an appointment and pay the fee.
Finding a good therapist takes work.  We each have unique needs and issues, and so a counselor who works well with your cousin may not be a good match for you. Here are 10 tips to help you find the best help for yourself.
Check Credentials. As someone who went through several counseling graduate programs, I assure you it makes a difference to get a professionally trained counselor. Look for someone who holds a counseling license in your state. Check for initials after the counselor's name like LPC (licensed professional counselor), LCMHC (licensed clinical mental health counselor), MFT (marriage and family therapist), LICSW (licensed social worker), PhD or PsyD (doctor of psychology). Any of these initials indicate the counselor has had professional-level mental health training and has completed supervised, professional internships.
Check Advanced Credentials.  Certain mental health problems require more specialized care. For instance, if your issue is addiction, you would likely benefit from seeing someone with CAC  (certified addictions counselor) MAC (masters addiction counselor), or LAC (licensed addictions counselor) after their name. A counselor with NCC has passed a rigorous professional examination and is current in the profession. A CSAT is trained in working with sex addiction. There are many such specialties, so if you see an alphabet soup of initials after a counselor's name, look up what they mean.
Have a Conversation in Advance. Some counselors offer a free 15- or 20-minute consultation before scheduling a paid therapy appointment to give you a chance to decide if the counselor is a good match for you. If possible, go for it. Only schedule an appointment if you get the feeling the counselor will treat you with kindness, compassion, and competence.
Pay Attention to Modalities Used. Counselors use many methods in working with clients. Psychodynamic counselors might focus more on how your childhood led to your current issues than would Cognitive Behavioral Therapists, who will look at how your current thinking patterns might be making your problems worse. EMDR is a modality that reduces stress related to trauma without needing in-depth conversation about it. If the therapist leans on a particular modality, look it up and ask about it.
Pay Attention to How You Feel. When you talk to the counselor, do you feel understood? Do you feel listened to? Do you feel it's safe to disagree? Do you feel emotionally supported? You will notice a vast difference from one counselor to the next if you talk to several. Some will want to collect all the facts about your situation, and others will offer you comfort even from the start , even when you're just calling for information. If it feels good to talk to the counselor in the initial conversation, you're probably in good hands.
Get the Word on the Street. Ask around.  I once found a great counselor by asking a therapist friend, who sent me to the only counselor in town she'd never heard anything bad about.
Failure to Get Back to You is a Red Flag. These days many counselors are fully booked and far too busy, but that's no excuse to not respond to your messages. Good counselors know that anybody reaching out to them could be in great distress and they make it their business to return calls and emails promptly. If a counselor fails to call you back, she will likely also not be responsive when you need her later on.
Other Red Flags. You are paying for your session, so the focus should be on YOU. If  the therapist talks a lot about his or her own situation, that's problematic and you need to find another counselor. If your therapist throws a lot of advice at you, you'd probably be better off with someone else. Just to be clear, it's a good thing if the therapist directs you to concrete resources that might help you, but your therapist should not suggest which decision you should make or otherwise impose values on you. The therapist's job is to help you get clear enough to make your own decisions and clarify your own values. Finally, if your counselor wants to socialize with you, even online, you probably need to find a different counselor. It's an ethical violation for counselors to socialize with clients.
Does the Counselor Empower You? You are paying for counseling, which means your counselor is hired help. If you don't like the direction the counseling is going, you need to be able to say so. It's important to have a counselor with whom you're comfortable being honest. You need to be able to push back, to tell your counselor what works for you and what doesn't and what goals you want to realize. Shop for a counselor who makes you feel comfortable and empowered in sessions.
Don't Be Afraid to Switch. You can't expect every counseling session to yield epiphanies, and in fact, sometimes counseling is hard and doesn't feel great at all. But if after a few sessions you feel that your counselor just "doesn't get you," or doesn't listen well to you, or violates some of the red flags mentioned above, don't be afraid to switch to someone else. You'd return clothing to the store if it didn't fit, and in the same way, if the counselor doesn't fit, find someone who does.